Stormland is a VR video game released by Insominiac Games in 2018. In this game you are a strong, robust robot in a vast open world and you are tasked with locating your friends in order to save them. Once you have saved your friends the aim is to go back to safety.
On the face of it, then your mission seems enough to understand and straightforward enough to achieve. However if it was that simple to accomplish your mission then the game would neither be fun nor a challenge. Thankfully though Stormland is both fun and also a challenge. The game gets it's name from the open world in it being prone to frequent and really violent storms. Such storms make gliding or any other kind of travelling on this planet a highly dangerous thing to do.
Indeed it was such a storm that put you and your friends in such dangerous situations in the first place. The storm brought down the spacecraft, scattering you and your friends over a large area of Stormland. You have to rebuild yourself whilst you are travelling around looking for the rest of the crew by going from one island to the next. While you get the hang of the island hopping you get to see a vast world along the way. The graphics make Stormland look stunning and the VR combined with Occulus Rift make the game so much fun to play.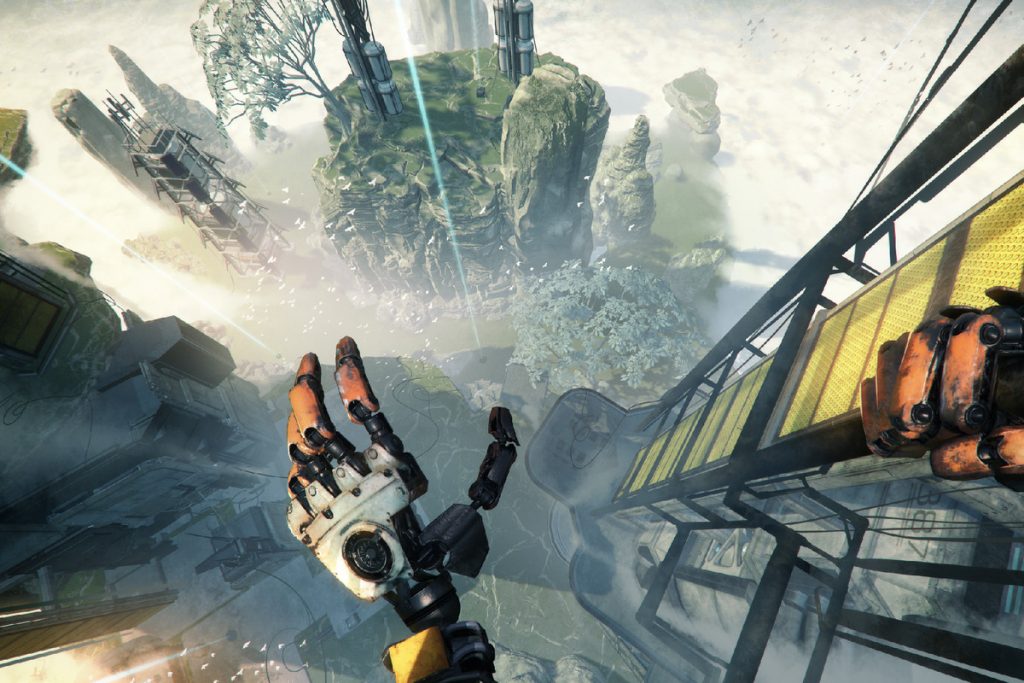 Even though you are a tough robot you still need help to get around Stormland and to rescue your friends. While looking around the islands keep searching for hidden stashes of ammunition, guns, health packs and other weapons. Such finds come in handy when you have to fight other robots on the way to finding your crew mates.
In the early stages of the game you can find a shotgun and a machine gun, which are really useful in allowing to make further progress in this game. It is also possible to batter other robots as you as strong, if not stronger than most of your opponents. Using brute force can take you a far distance in this game though picking up supplies whenever find them proves to be really useful for completing the game. Be prepared to take some hefty blows as you hop from island to island to reunite with your friends.
Insominiac have done a fine job of getting the VR to work on Stormland. It certainly adds to the thrill and excitement of playing this game. You can readily control the game through the headset and it increases the amount of fun you are having while you play the game. It is a lot of action and fun to have in an open world outer space first person shooter featuring battles between robots. That just about seems perfect for a computer game.
To conclude I would recommend that you play and will enjoy playing Stormland. It is one of the best games of it's genre currently available.